As I lay in bed with a really bad case of the flu over the weekend – feeling rather wretched – I was listening to NPR and one of the programs was a discussion about New York City, featuring different stories that have happened in the city. (There's a purpose to this – bear with me!)
The first story was told by the man who experienced it, takes place in a subway platform. He is standing at one end and, as usual, there's a very eclectic mixture of people waiting on the platform – some families, some hippies, women dressed in business attire, tourists…just a really diverse mix of people. At the opposite end of where the storyteller was standing, he saw this man who looked quite average – he was wearing a suit and he was walking down the platform with a pad in his hand, stopping at each person to say something to them.
As he got closer to the storyteller, what he heard the man saying was, "You leave" or "You can stay". He went up to a woman wearing a business suit and said "You leave", the Puerto Rican couple, in a benevolent way, "You can stay". This being New York, nobody left and everyone went on with their business, but the closer this man got to the narrator, the more nervous the storyteller became. Would he be told to leave or to stay?
The fear of being asked to leave – for no reason and no real consequence – did not alter his apprehension of being rejected. The man was one person away. The hippie was told, with a smile, "For sure you can stay" and then he walked on to the narrator and looked him straight in the eye, took a second and then passed his judgment, "Okay, you stay". He was so relieved and so pleased that he had been one of the chosen ones and was not rejected. The interesting thing is that even though there was no direct implication, it was such a reinforcement that played to each of our direct fear. Am I good enough?
So it got me thinking. Are we approaching our business in the wrong way? Should we advertise or post on blogs that we are interviewing clients to see who we will accept or reject, creating a sense that, well, I have to be accepted, if not, there's something wrong with me as a client?
I don't know if this had to do with the fever or with the headache, but in my moment of illness it seemed like the perfect solution to building up the business and keeping full control of the situation. Now I'm off to bed for some more fever-induced sleep. Let me know your thoughts on this!
Name: Rebecca Schweitzer
Comment: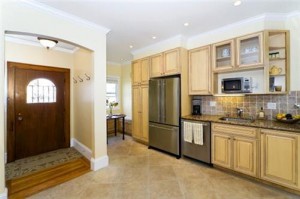 Hello Mr. Wolf,
First off, like all that write you, I am and have been a huge fan for years.  My mom, a designer herself, introduced me to your work.  I'm sitting here staring at my entryway/ mini San Francisco foyer wondering what to do to make it more grand or defined.  My husband and I are first time home owners, exciting and daunting all at the same time.  I've attached a picture of the mini-foyer.    As you can see the front door almost opens onto our kitchen  What do you think?  I was picturing wallpaper and a small crystal light fixture…  I don't know, I'm stumped and would love any input.  In any case, I know you are incredibly busy.  I'm looking forward to the new book!
All the best,
Rebecca
Vicente Responds:
Without being there and without knowing all the particulars, I say you have two choices. Maybe put a panel of frosted glass as the entrance to the kitchen, so you are not led into the kitchen but rather into the living room. You could do a flush door – no molding or anything. You could seal it up so people are forced to go into the living room, but I like the idea of a frosted glass panel most so natural light can come into the kitchen and it gives you something to focus on. This is hoping that there is another entrance into the kitchen – if there isn't, perhaps that is something to consider?
My first impression was to paint it a color, walls and ceiling – it should be a darker color, something to give it a sense of unity. It could be black, brown, fire-engine red. Whichever color, as you go into the space, one will find a relation. And I would paint the inside of the front door the same color as the walls so it doesn't look like a foyer but rather a block of color. I think a wall paper would fracture the space.
Due to my many shortcomings and disabilities, even if I wanted to, I could not run a whole business myself and I am shocked so many times when I'm speaking in front of other designers, that so many of them try to do everything in their business. They're the bookkeeper, secretary, drafting person, manage purchase orders and billing and my comment on that is always 'Do you really think that you can do all these things well?' and 'How much does doing these things prevent you from being out there and promoting yourself, being creative, being inspired and having the time to become inspired'?
My analogy to this is that if you take a plant and you place it in a tiny pot, it'll only grow so much, but if you put it in a big pot, you are giving it room for growth. You can't run a business as one person, and if you say that you don't make enough money to support an intern / part-time employee / full-time employee, just think of Harry Segal who was a big-time accountant for a lot of the interior designers. He used to say that a designer doesn't make money by staying at his/her office, they make money by getting out there. If you're in your office doing billing, contracts, answering the phones and handling all the administrative tasks, when do you have time to go out and think of things that you could be selling your clients or ideas for a new room or making connections with prospective clients?
And if you have the fear that only you can do it well, get over it! That is just insecurity and we all need to learn to delegate. If a client sees a one-person operation, it doesn't give them as much trust as if they see a professional office. There are people that can be hired as a consultant that can do billing for you, others can do your PO's. If you can understand the fact that the more professional you run your business, the more professional your office will be perceived and with that comes more respect. If you're seen as doing what you do as a hobby, you will be dealt with accordingly.
Even if you make a little less, the freedom and self-confidence that you will get by perceiving yourself as more of a professional, will be worth the extra costs.