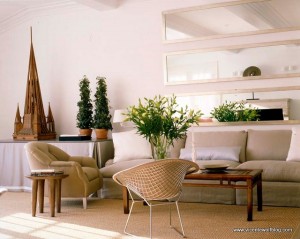 It's hard to believe – with the economy being what it is -that so many vendors are still not pampering and following through and catering to us designers who are providing them with business. "Oh, the truck broke down, the glass broke, the workman didn't show up today", or the 'I'm not going to answer your phone call or return it' and the sort of excuses I have heard for years which say to me "I don't give a shit about you" just makes me so angry.
Naturally I'm not saying every supplier, but I will tell you this, the ones that are doing this to me will not work with my firm anymore. It's hard enough trying to find clients and trying to keep the relationships with the clients smooth. Who needs a supplier throwing a spanner in the works?
Are you all having similar problems? Please commiserate with me if you do!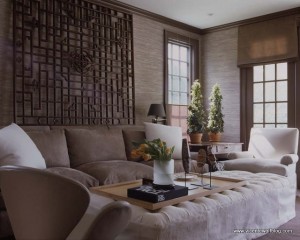 I had my second meeting with the consultation client and, after I gave her an assignment the first time, she came back with a plan of her apartment and showed me her different solutions. It was interesting to discuss her design process and to look at what solutions she had discovered. Still, my challenge was to try and infuse in her a free-er quality to her work. After discussing the process she went through, I showed her some other options, incorporating her ideas and the lightbulb went on!
I think the strongest point in talking to her was that the plans that she had brought were all furniture plans. I believe that one should really decide how one is going to reallocate the background before even starting to add furniture. What she was doing was to move a few walls so she could place the furniture, where my thinking is to really bring the background to a 100% and then the furniture sort of places itself in the space.
After her showing great insecurity about her creativity during our first session and wanting to know from me what good design was, it was such a great surprise to see pictures of a home she did for herself in the country as well as an apartment in NYC and just how wonderful it was. It wasn't quite completed and I gave her some suggestions, but I think her fear overrode her style and her talent.
It's so important that we trust what we do and are realistic when we look at our work without underselling ourselves. After all, if you don't believe in your work, how do you expect the client to?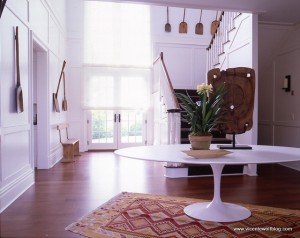 Sitting in front of me is the last revise of Book 3. I can taste it. It's amazing to see the process from beginning to end, of adjusting photographs, moving them around, changing the volume and sizes of the photographs. It is, like the first two times, such an exhilirating experience. For somebody who always sees the glass half-empty, I was more and more positive with each revise and fell more and more in love with it. I hope it will give readers more information on the design process and I'll be sure to let you know when you can start placing orders for Lifting The Curtain On Design. I'm so excited!