I apologize for the lack of posts while I'm traveling, but my schedule is just packed. I promise to share all the experiences with you when I get back early next week!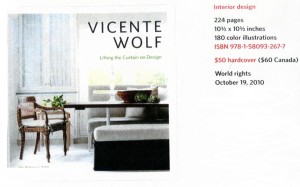 In the meantime I wanted to share some big news with you. The date for my new book's launch has been confirmed. Lifting the Curtain on Design will be launched on October 19th. And here's the even bigger news…you can pre-order you book now for delivery after the launch. If you want a signed copy you'll have to wait until after the launch for some book-signing opportunities, but if you have to have one asap, this is the way to go.
I'm so excited!
From:Jennifer Bramwell
Subject: Question for you
Hi, Vicente, I enjoy your blog and appreciate your willingness to give advice.  Myself and my business partner have an interior design business with a studio in my home.  We have avoided taking on the overhead of retail space for the past five years and enjoy the flexibility and low overhead of not having inventory and a retail business to take care of.  However, we are trying other methods to attract clients including a monthly newsletter and a blog.  We are still facing some dry spells and can take on and need more business.  We are primarily residential and live and work in a four season tourist community north of Toronto so there is lots of business to be had if we had the magic bullet.
Any suggestions?
Kind regards,
Jennifer Bramwell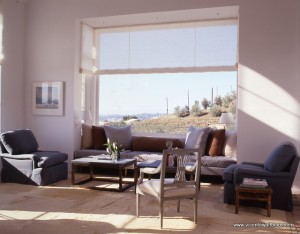 Vicente Responds:
For many years I ran my business from a separate office in my apartment and was lucky enough to build my business from there.  When I first went on my own, I felt that to feel fully professional, I needed a seperate office where I could be perceived as established and grounded. I think it helped to build confidence and respect from the clients that I got.
If you keep a plant in a small pot it won't grow bigger, but if you transplant it to a larger pot it will flourish. Think of your business in the same way.
Regarding that magic bullet for new business…I suggest you think of ways in which you can get connected to clients that are out there (and when you find that one that works best, let me know so I can do it myself!).
Here are some of my quick thoughts:
Socially, I have no kids (only a cat), but I understand that the school connection is pretty good in helping to get the word out there.
Are you published? Perhaps you should target your area's design magazines with your best job and see if you can get published. That usually gets the phones ringing.
Talk to real estate people so you can form a partnership where they can help you sell services when they sell a new apartment.
Maybe some of the readers have additional ideas – let us know what has worked for you by sharing them here!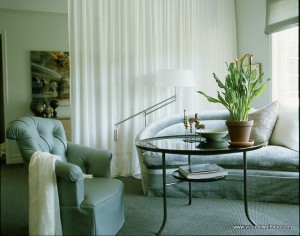 Today I fly from sunny Paris into the South African winter. First stop is Johannesburg where I will be speaking and attending Rooms on View.  I spotted some open spaces in my busy schedule for the week and hope to be able to go shopping at my favorite crafts dealer in Joburg before heading to Cape Town on the weekend for two Conde Nast House & Garden reader events. Do you have any 'must-do's' to recommend for either Johannesburg or Cape Town?
I think I may be the only person on my flight NOT heading to South Africa to attend the World Cup (hoping to get out of there before the football craziness starts!). I promise to share some of both the French and African experiences with you as soon as I get back to New York on June 1st.