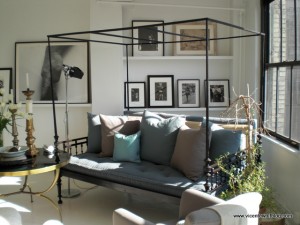 You may know that I am an avid photography collector. My house is filled with pieces I've collected over the years. This new partnership is thus a very exciting one for me!
I just signed with the NY times to go through their photo archives and pick ten images that would work well as a collection. I think it's such a wonderful way for people to start a photo collection of their own. There will be some pictures of New York, celebrities and of course some good old classics. I think for a good price, one will be able to get some great collectable pieces.
As soon as we are ready to launch, I will link this blog to their site. What a great project to work on!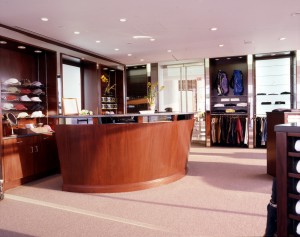 Name: Linda Graveline
City: Los Angeles
State: CA
Country: USA
Comment:
My client owns an animal hospital that I'm helping him update. The project will be done in stages, mostly this fall. One thing we're planning is to replace the front office/lobby flooring – it's currently a vinyl faux brick pattern. Since customers have been going to this neighborhood animal hospital for many generations, we want to retain the old school charm/humor that the previous owners infused and add some modern aspects as well. For example we're going to keep the quirky church pew seating in the waiting room but add vinyl pads to make them more comfortable and add some color. I like the look of the flooring Vons recently used to update their produce departments. We want to make sure the cost of these updates don't have to be passed on to his customers. Can you recommend some reliable flooring companies in the L.A. area who would have reasonable pricing and wood flooring suitable for a high-traffic animal hospital?
Thanks!
Vicente Responds:
No I don't. Off the cuff I'd try concrete or self-levelers for the floors. These are easy to maintain and can come in a lot of different colors. I think, however, that our readers may just be the most helpful in this instance. Do any of you out there know of a good wood flooring supplier in the LA area? Please share that here. (Don't you love that we can all learn from one another?)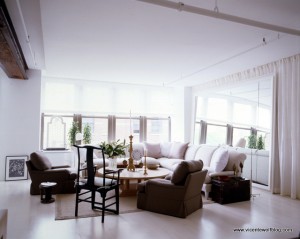 We all have all different types of fantasies. Some of mine I can't talk about – but the others usually have to do with creative opportunities. Whether it is designing amazing products or being approached to form new partnerships, they somehow always come full circle to a really good opportunity. I fantasize constantly; sitting on a plane and thinking how I could redesign that plane's interiors, or hearing from a friend of mine that he is doing a palace in the Middle East, and then fantasizing about what I envision a palace in the Middle East being.
Recently, in designing a bathroom for a client, I started with a fantasy of what my dream bathroom would be. I envisioned this open Roman temple with flowing curtains, fountains and water running, kind of like a movie set, and from there I thought, wow, wouldn't it be interesting to create something that has the essence of a Roman bathroom. So I created a double sink cabinet with legs out of statuary marble carved in Roman style with a marble top and then a floor that was inspired by an actual roman bathroom in Pompei. Dreaming opened up my imagination to creating a reality.
I'm a firm believer that if we can visualize what our fantasies are, it's the first step towards making it happen. So if you want to do product partnerships, you fantasize about it and envision it in your mind and that's the beginning. Whatever you can conceive and put out there so they can become a reality, have a bigger chance of seeing the light of day. (Have you seen The Secret?) You have to dream it for it to become reality. I think that the more you keep your mind open and allow it to just wander and dream, special reality can come from it. At least a reality that steps outside the norm. If you all have any fantasies that you want to share (just keep it G-rated!) concerning design, why don't you share it with all of us and give it the first step towards becoming a reality!