Week 3
After the plans were drawn up of the actual space I started the simplification process, which had already begun formulating in my head from the moment I stepped into the house. The design intent was to visually increase the size of the house by opening it up.
You can see from the demolition plans below where we eliminated walls, added windows & doors and relocated rooms which in turn increased the square footage to other areas in the house.
The process is like lining up dominos and knocking them down one by one, in working with renovations one change brings the next step to vision.  I knew this was the beginning of a long process but one that was starting to gel in my mind. The next process was running the plans by the client.
Presenting to clients plans of an altered space is a tricky process, as all they can see in their minds is what exists. I first start by explaining what I saw as problems in the space then what our intent for the design of the house is.  Then I like to cut up a print of the plan by the different areas, i.e. foyer, living, dining room and so on.  I start presenting from the entrance of the house and with glue tape attach the next space and then the next to follow in the natural progression as one would walk through the space. 
It is a puzzle that I have created piecing together the house room by room. The purpose of this is for the clients to focus on what I am presenting and not have them distracted by looking at other areas which I am not ready to discuss.  I use this approach when I am showing new plans or decorative plans.
 *** If you would like to see all the posts together you can click on " Behind The Scenes" under categories***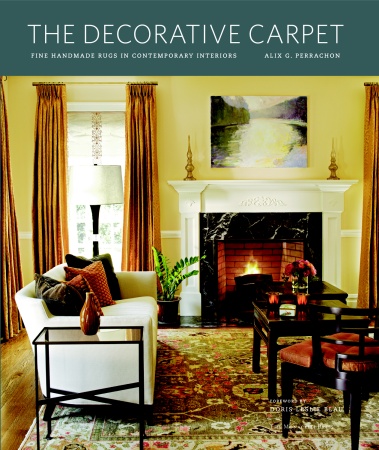 What an incredible collection of beautiful carpets in the new book, The Decorative Carpet by Alix G. Perrachon. It is a compilation of different designers including David Easton, Juan Montoya, Clodagh and myself.  I highly recommend it as it gives you a range of designers perspective's on using handmade carpets from around the world as decorative pieces.
Below is a question from a FB friend….
Dear Vicente,
My fiancé and I recently bought our first home and I couldn't wait to get in and start decorating. I am not formally trained and I don't have a ton of experience, but I'm an artist who studied fine art in France and I've always been told I am a natural when it comes to interiors. I thought I would finally be able to show my true vision to the world using our new home.
For the last six months I have obsessed over every detail, lived and breathed design, arranged and rearranged floor plans, and scoured every possible resource. After all that work, I don't feel like my vision is coming together at all. In fact, I think that I have put so much pressure on myself to make my home perfect that I have lost my vision entirely. I've also been hindered by my fiancé's contrasting ideas for our space as well as price and time constraints.
I follow your blog and your vision is so clear and apparent in all that you do. Your spaces always possess that "thing without a name" or that certain something that can't be articulated, but it makes a space great and whole. As an experienced designer, do you have any suggestions for finding my vision and keeping it at the front of my mind?
With admiration,
Visionless
Dear Visionless,
Great space is not about being perfect, it is not about every item being a ten and it's not just about the objects in the room. It is about the concept or vision of the overall space.
To me obsessing translates to insecurity and being unsure of what you want.  I always tell people to go with their gut, trust yourself and try not to second guess every decision you need to make.
I would first start by doing a floor plan and furniture plan to scale on paper, go into your mind and pull out what is important to you and your fiancé and what are your needs.  Then you can start balancing it out in the plan.  You should be aware of scale, the ying and yang and try to have a sense of humor.
 If this doesn't bring you joy or a sense of well being, maybe you should hire a professional that can translate your wishes into reality.
Who out there has had similar problems?
Is it harder to do it for yourself than for other people?