This week we presented the bathrooms to Mr. & Mrs. M, as I had mentioned in the last post we knew this was not going to be an easy presentation.  My team and I went through exhaustive processes to make sure we were ready and we had all the materials to make everything as clear as possible. We then crossed our fingers and went into the meeting ready as we could be.
Below are mini descriptions of each bathroom we presented with its elevations and images of the materials we proposed.  We wanted the bathrooms to have a sense of the past but read more contemporary.
First Floor
The Powder Room
We proposed 24 x24 slate gray floor tiles,  3 ' high mahogany dado and a mahogany picture ledge along the toilet wall.  The walls are covered in a macadamia colored ribbed vinyl wallpaper.  The pedestal sink is made out of concrete colored stone with a floor to ceiling mirror behind it. 
For this room we also thought a polished stainless steel wall mounted toilet would be a nice juxtaposition against the traditional mahogany dado.  Traditional pendant light fixtures would be installed above the sink. The sense of the room is rich and elegant but still relaxed.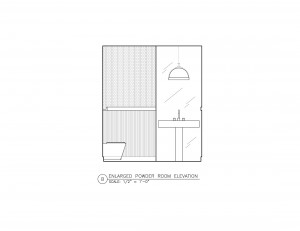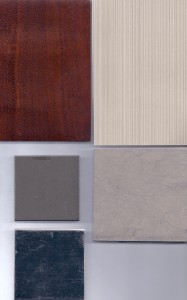 The Laundry Room
This room comes off the mud room area which is all glass and facing the front of the house.  We wanted it to have a crisp quality. We proposed a grey tile that is about 2 shades lighter then the slate in the powder room and bright white textured vinyl wallpaper.
 White painted millworks with horizontal slat details set within a flat frame are on either side of the room. On one side there are floor to ceiling storage closets and on the other side there is the washer & dryer and sink with cabinets have the slat detail as well.  There is a white quartz countertop and a white porcelain farmhouse sink.  To bring in a decorative touch we did shelves above and between the windows, making this a great potting room.  Mrs. M collects white pots and vases and the shelves we added are a perfect place to display them. Having the large scale grey tile floor set off the very white room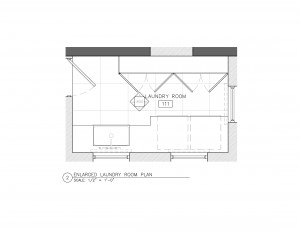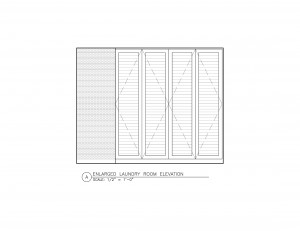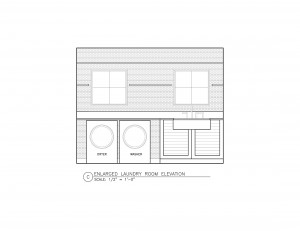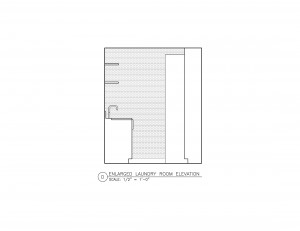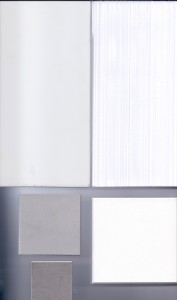 The Guest Bathroom
I like guest bathrooms to have a different slant than the rest of the house, it's important for guests to feel that they have their own environment almost like it has been tailored to them.  For this guest bathroom the departure from the rest of the house was it had a spa like quality.
We proposed 12" x 12" terrazzo tile floor and 12" x 12" aqua colored glass tiles to cover the walls from floor to ceiling. The sink console is made up of two slabs of white quartz and the sink is frosted glass that gives off a slight greenish tint.  There are wall to wall mirrors behind the sink console with two vertical wall sconces along with a white one piece toilet and simple plumbing fixtures and a clear glass sheet that encloses the shower.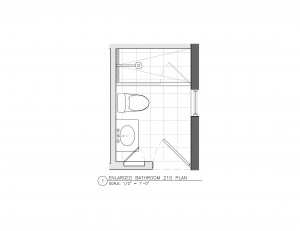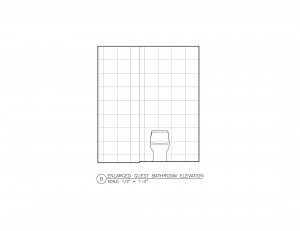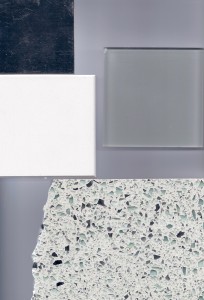 Next week I will show you the second floor.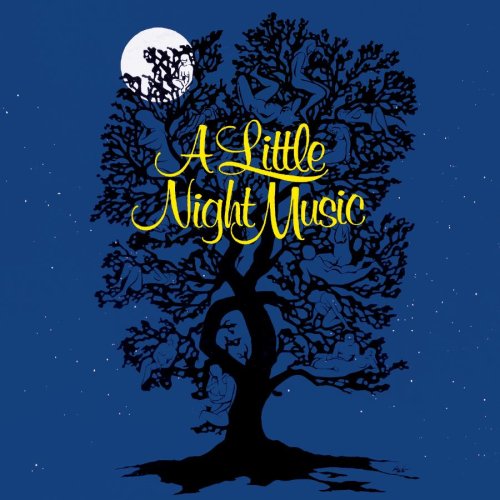 It has been a good month of theatre, a few weeks ago I saw The Little Night music with Bernadette Peters and  Elaine Stritch.  It's one of Stephen Sondheim's most lyrical musicals, I had seen it originally when it first opened but didn't remember how beautiful the music was.  This production by director Trevor Nunn was so simple yet so effective, if you like Sondheim you will love it. Just found out it has been extended until Jan 9th if you're in the area I highly recommend it.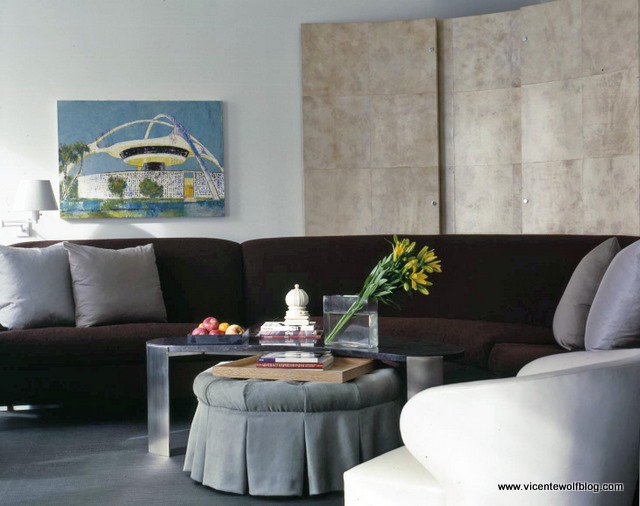 Last Monday I flew to High Point, NC to lecture at the design center and to attend Margaret Russell's AD event, which was very well attended. Among the many people at the event were Alexa Hampton, Mariette Himes Gomez, and Thom Filica. Margaret still had her ankle boot on, but nevertheless she was a total knock out in her Prada frock.
The following day I gave a lecture sponsored by ASID and High Point Market and had a real  lively Q&A session followed by a book signing. There was a intense discussion about what titles that designers take on, interior designer, decorator, designer etc . What is your sense about this?  I am conflicted.  I do not want anyone telling me what I can call myself, and I have been calling myself a designer for 38 years. On the flip side we do need to have rules in the industry and some sort of control, if not anyone with a business card can call themselves an interior designer.  Where you fall on this topic?
After the lecture I had an hour to before my flight so I took a quick tour of the market. The collections by Mariette and Alexa at Hickory Chair were very impactful especially in the new showroom.  The overall design of the new showroom had a great flow and looked very cohesive.  
On the plane back to NY I had the pleasure of bumping into the Michael Boodro, Anita Sarsidi and Barbara Friedmann from Elle Décor. They went through the entire market and I got the overview of what they had seen which was very enlightening.