Happy Halloween!
Since many of you wanted to see more photos of my friend Tim's French chateau, I created a photo album for you to see the beautiful place.  You will have to wait for the Veranda magazine article to come out to see more interior photos of his chateau. I'll keep you posted!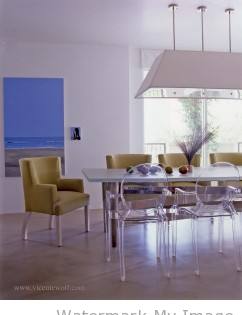 Name:  Sofia Mendonca
Country:  Portugal
First Question:
I'm finding it a bit difficult to get samples from suppliers because I'm a student so I've been presenting myself as a young designer since I've started to help some friends on a big project.  But I feel pretentious and fake while doing it even though I always maintain a professional approach and act like I know what I want.  Is there a more honest way for students to get samples? Or should I just change my own perception of how to get what I need?
Second Question:
In your opinion, what are the most common mistakes young designers make?
Vicente Responds:
In response to your first question, I suggest you approach design firms and ask for samples you don't want.  Are you young and a designer? If so, you are not being "fake" or "pretentious".  You can return the samples after you use them.  If you like the fabrics, you'll use them in the future.  You are laying the groundwork for your career in interior design.
As for your second question, I'd say the most common mistakes made by young designers is not being professional or giving away your expertise for free.
This morning the "before" video segment of my Palm Beach project aired on Café CNN.  Click the video below to view the show.  The "after" segment airs tomorrow morning (October 26) at 8:57 a.m. on Café CNN and will also be streamed online.  I'll post the "after" video for you all to see after the segment airs!
Enjoy!
Café CNN \"Before\" Segment in Palm Beach, FL