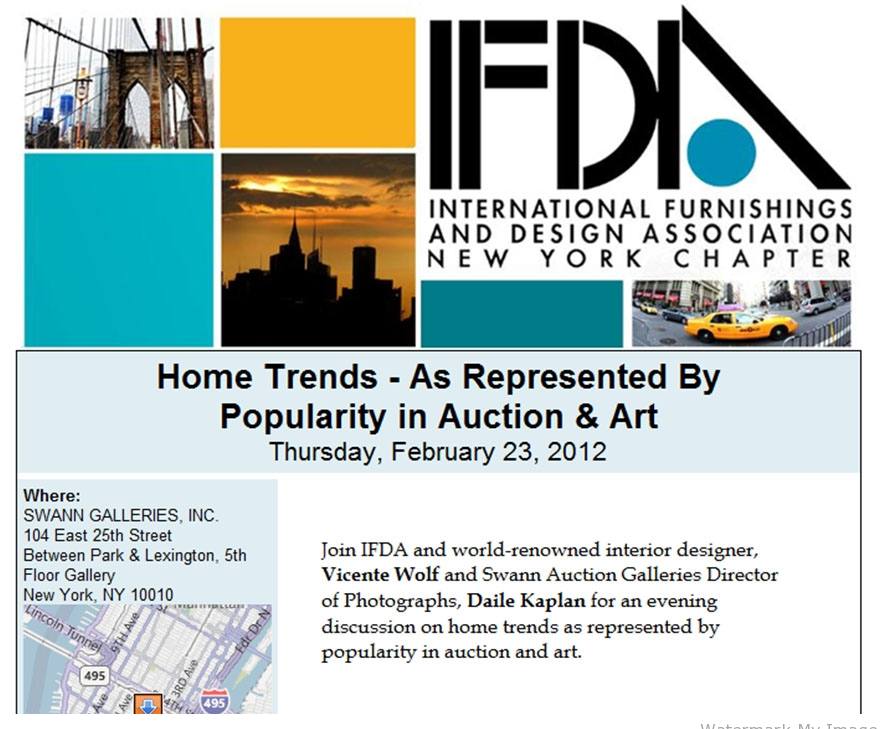 Join me, Swann Auction Galleries Director of Photographs, Daile Kaplan and the International Furnishing and Design Association (IFDA) for an evening discussion on home trends as represented by popularity in auction and art. The program will explore the influence of art and photography on home furnishings and interior design, the impact of the right artwork in a space and how auction acts as an early indicator of what's to come.
I will be talking about how art influences how I plan the design of a space, the impact the right artwork or photography have on a space, and how art influences home furnishings design for VW Home.
Time: 6 p.m. – 8 p.m., 6  – 6:45 p.m. networking reception followed by program
Where: 104 East 25th Street between Park and Lexington, 5th Floor Gallery
To RSVP and register, please visit: http://conta.cc/zxvkcp
About IFDA
IFDA (the International Furnishings & Design Association) is the only organization whose members represent the total design and furnishings industry in all its aspects.  IFDA provides a professional forum for communication and interaction for people in all facets of the home furnishings and design industries. In 2012 the group is celebrating its 65th year. 
Link to IFDA"s new blog:  http://ifdany.blogspot.com/
About Swann Galleries
Swann Auction Galleries was founded in 1941 as an auction house specializing in Rare and Antiquarian Books, and today is the largest specialist auctioneers of Works on Paper in the world. Swann conducts an average of 40 sales a year, encompassing Rare & Antiquarian Books, Autographs, Maps, Photographs & Photobooks, Old Master through Contemporary Prints & Drawings and Vintage Posters and African-American Fine Art. Visit www.swanngalleries.com for more information.
I was approached by RAMSIGN to host a giveaway for my readers…that's you all!  They are really beautiful porcelain enamal signs and they remind me of street and building signs in Paris.  You can have the name of your company, house number, or name featured promiently on a genuine hand-crafted sign! The winner will get to choose the sign of thier choice and what goes on it as well.
It is very kind of them to offer a sign for our giveaway.  Visit their website http://ramsign.com/ to see what signs they have on offer.
To enter this contest, please send me one photo of your favorite room (it can be of your own design if you so desire) and I will choose the one that I like the most.  All entries must be submitted by next Wednesday, February 22 to info@vicentewolf.com.  Please include your first and last name and e-mail address.  I will announce the winner on the blog next week.
All my readers around the world are eligible for this contest!
Good luck!

This is a must for any creative person who is looking for inspiration.  The David Zwirner Gallery at 525 West 19th Street is having the most extraordinary show on Doug Wheeler, which will be up until February 25.  It is hard to explain what an a wonderful visual experience it is to see this work.  Mr. Wheeler is one of the pioneers of the light and space movement that flourished in Southern California in the 60s and 70s.  In this piece – which encompasses the whole gallery –  he explores the metareality of light while emphasizing the viewer's physical experience of infinity space.  As they only allow nine people into the space at a time, there is a long wait.  You will likely wait in line on the street for approximately 30-45 minutes.  When you enter the gallery, you may have to wait another 30 minutes to view the piece.  I will tell you that I have a short attention span, but I was in no way disappointed with the experience.  There was an endless stream of "Oh wows" and  "I can't believe this!" that were being uttered by the other eight in the room with me. 
Please do not miss this exhibition.  The best time to get there is to get there at 10 a.m. when it opens, or during the week (but not at lunch hour). 
 Photo credit: David Zwirner Gallery