The New York Times posted an interesting article on Thursday, August 30th entitled "The Classics, Circa 2050." The story highlighted selected classic design pieces from the most notable designers including myself that will withstand the test of time. Check out the article online and find out what my favorite timeless pieces are.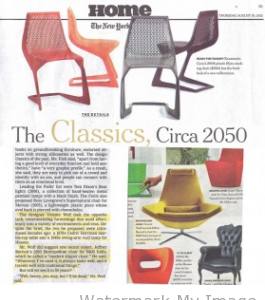 Thank you to NY Spaces Magazine for selecting me as one of the top 50 designers in New York City!
In the coming weeks, I will be traveling to Nevada to the Burning Man event. In the past, I've been very coy about attending this event due to others' opinions. Enduring the comments of "why go" and "it doesn't seem like a Vicente thing to do", I always answer "why not" with a smile. Since being exposed to it through a friend with very elaborate pictures of the event, I was intrigued. I felt it was something I should experience and a place I needed to go. Some may call it a hippie festival, an art expo or even a Woodstock version of a sex and drug party. Regardless of what many may think, I am going to experience the creative process in an unrestricted environment in the middle of the Nevada desert. It's a place for people to be innovative, and let loose their fantasies and desires. Don't worry; I'll have plenty of photos to share with you all. If interested, check out the burning man website at http://www.burningman.com/.