Last night, I had the pleasure of attending the Orchid Dinner sponsored by Veranda Magazine at the Mandarin Oriental Hotel. The 11th annual Orchid Show is the nation's largest exhibition which celebrates this exotic flower in all its amazing forms.  Elaborate displays throughout the galleries of the Enid A. Haupt Conservatory explode with orchids in a colossal of colors, shapes, sizes and textures. The Orchid show is scheduled March 2nd through April 22nd. A must see for anyone visiting or living in New York City. The highlight of the event was the creation of the centerpieces done by various artists including myself. My centerpiece was entitled "La Cage a' Wolf" which included an oversize bright orange bird cage. A great DIY project for garden parties!
When creating a centerpiece, have no limitation! To add height to your table, stack moss under your centerpiece. Not only does this increase the height but it also adds a garden feel.
Place flower arrangement on top of the stacked moss, outlining the moss with flowers.
Instead of napkin rings use ribbon. A simplistic way to add color.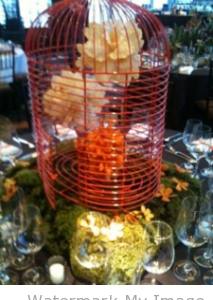 Nothing is complete without candles! Candles create a mood that's not only inspiring but inviting.
Every year I make it a point to update the decor in my home based on my mood and the season. So, it's great to have your home published in various international publications with a different feel. We may not all speak the same language but our interest in design connects us all. Pick up the latest edition of Nash Dom Magazine and check out my NYC loft.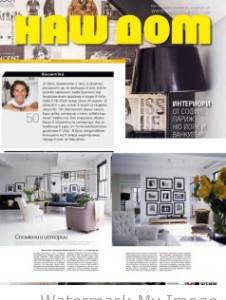 Lonny January/February Designer Feature: Ten Questions with Vicente Wolf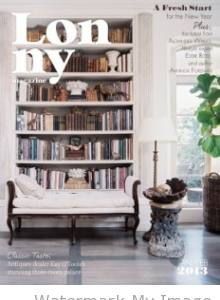 Design rule you like to break?
As many as I can!
http://www.lonny.com/Lonny+Designers