Auction Action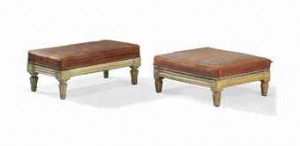 Yesterday I attended an auction at Christies outside of Paris, featuring items from the neoclassic Palais Abbatial de Royaumont.  This small palace houses a remarkable collection of Old Master and 19th century drawings, European furniture and works of art, sculpture, ceramics, silver and Asian art.
I saw wonderful pieces of furniture, all from far-flung places and bid on two items (in the thousand to few thousand dollar range) but didn't end up with anything.  In general, prices were over the top, with dealers bidding hundreds of thousands of dollars for items like small side tables.  I had a lovely time, nevertheless, and am enjoying my holiday in France!
Do you enjoy going to auctions? Have you ever come away with a beautiful piece that you love?