Join Me For an Evening Discussion @ Swann Auction Galleries on Feb. 23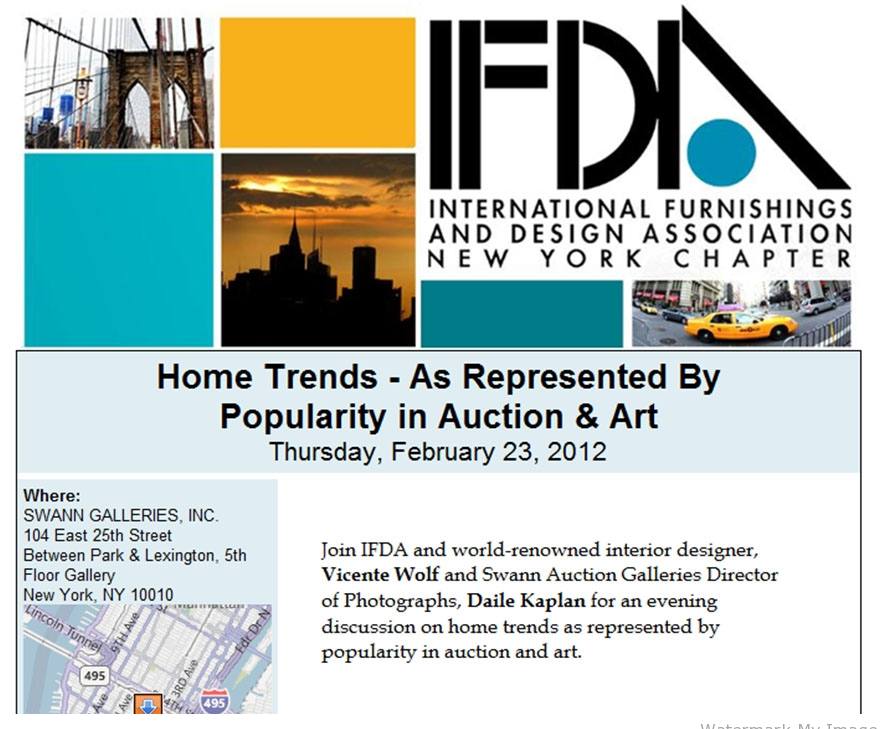 Join me, Swann Auction Galleries Director of Photographs, Daile Kaplan and the International Furnishing and Design Association (IFDA) for an evening discussion on home trends as represented by popularity in auction and art. The program will explore the influence of art and photography on home furnishings and interior design, the impact of the right artwork in a space and how auction acts as an early indicator of what's to come.
I will be talking about how art influences how I plan the design of a space, the impact the right artwork or photography have on a space, and how art influences home furnishings design for VW Home.
Time: 6 p.m. – 8 p.m., 6  – 6:45 p.m. networking reception followed by program
Where: 104 East 25th Street between Park and Lexington, 5th Floor Gallery
To RSVP and register, please visit: http://conta.cc/zxvkcp
About IFDA
IFDA (the International Furnishings & Design Association) is the only organization whose members represent the total design and furnishings industry in all its aspects.  IFDA provides a professional forum for communication and interaction for people in all facets of the home furnishings and design industries. In 2012 the group is celebrating its 65th year. 
Link to IFDA"s new blog:  http://ifdany.blogspot.com/
About Swann Galleries
Swann Auction Galleries was founded in 1941 as an auction house specializing in Rare and Antiquarian Books, and today is the largest specialist auctioneers of Works on Paper in the world. Swann conducts an average of 40 sales a year, encompassing Rare & Antiquarian Books, Autographs, Maps, Photographs & Photobooks, Old Master through Contemporary Prints & Drawings and Vintage Posters and African-American Fine Art. Visit www.swanngalleries.com for more information.