Ask Vicente: Beds
Name: Whitney
City: Palo Alto
State: CA
Comment:
Vicente,
Hello my lovely design guru. I'm a young, recent grad living in Palo Alto, CA and these last few months I've been extremely focused on the bedroom as a sanctuary and a number one priority for my clients. I'm interested in your choice on the perfect bed. I'm already in love with your Decorati beds but I'm wondering about mattresses, sheets-count, pima/egyptian?, pillow fill- 24% down?, fitted sheet, flat sheet, down blanket, coverlet, duvet? What all do you put on a bed to make it the most luxurious night possible? What is your preference when putting a bed together for your clients?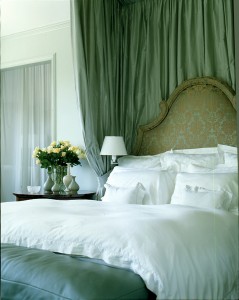 Vicente Responds:
Quite a random question, but here goes!
I get custom mattresses from Beckley Bedding. The sheets I use are usually from Anichini. Who knows about thread count? I certainly don't. On a queen sized bed I'll use 2 European shams, 4 standards and maybe 2 boudoir pillows. I usually mix the sheets, i.e. the same pattern on the European and one pair of standard and another in the other pair of standards and the top sheet. Like this the patterns are staggered. But my sheets are always white. Pillows? Nice ones. Down – I hate foam slabs. For clients we do custom comforters in the fabrics of the room.