DIY with Pittsburgh Paints
This year I had the pleasure of working with PPG Pittsburgh Paints in launching a collection of colors that will reflect my designs and love for travel. My favorite of course, is the Vicente Wolf White color #581-1.  Pure white is a color I often use in my designs and private quarters.
It's a color that transcend, making any room seem larger when floors and ceilings are painted in the reflection of this color.  As the holiday approaches, try adding a high gloss to your walls for a more glamorous appeal.  A great DIY project for any holiday celebration!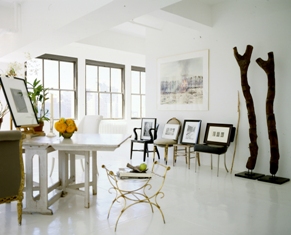 My NYC loft painted with PPG "Vicente Wolf White "color #581-1
available February 2014.