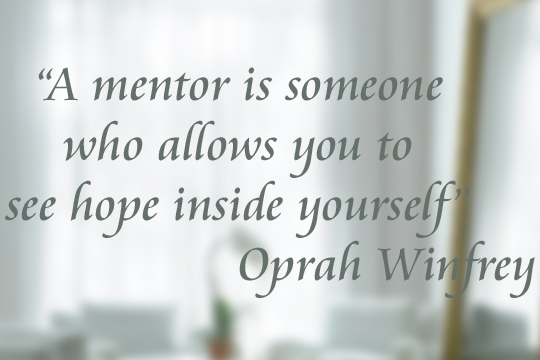 My Experiences and What I Learned Working with Vicente Wolf
Part I
by Laura Cattano

After working for 4 years as an administrative assistant to top interior designer, Vicente Wolf, I was compelled to put my thoughts about the experience on paper.  Though my tenure with Vicente Wolf Associates (VWA) ended in 2003, my work and who I am as a person and professional continues to be impacted by his vision, his design philosophy – and his spirit. 

Don't Worry About Education 
I saw Vicente speak at an Architectural Digest Home Design Show on a panel with two other interior designers. They both mentioned their graduate degrees; one from Harvard and the other from Yale and their love of symmetry. When it was Vicente's turn, he said he didn't graduate high school and wasn't a fan of symmetry then clicked the first slide. The crowd gasped. You could hear a pin drop during his presentation, unlike his fellow panelists.
Vicente, an interior designer in NYC, has always been upfront about his dyslexia and how school was hard for him. That he got his education by training his eye through travel, going to museums, and keeping his mind open to the beauty around him.
As someone whose field, Professional Organizer, doesn't have a degree associated with it and the fact that I never attended design school yet do styling and decorating for my organizing clients, I think of Vicente often and how it never bothered him.  When asked about my background, I channel Vicente's confidence and am not troubled by my lack of training either.
Trust Your Gut
When I first started at VWA, I was not experienced in home interior design.  Knowing that I recently moved to NYC, Vicente asked how my new apartment was coming along. I bemoaned how my sister was helping me. That she said I must have an accent color that repeated in each room and that brown (my response) was not an accent color. She suggested sage green. Vicente said to think about what I liked and not to listen to my sister or anyone else for that matter. He may actually have said 'who the hell cares what your sister thinks?!'. That I needed to listen to my gut as to what I liked and what I wanted to live with, was exactly what was needed.
Learning to trust my gut is the most valuable lesson from my time with Vicente Wolf Associates, and not only with styling. When I started my business, I may not have known exactly what I wanted to do in the long run, I did know that I didn't want to do what everyone else was doing at the time, which was basic organizing. For the first several years after starting my business I received so much advice; from not to spend money on my website and business cards (there weren't great template websites at the time, so I designed a custom website that was relatively expensive), to taking every job that came my way, to advertising on Craigslist and posting flyers on community boards. I thankfully ignored all that advice – and then some. I took my own path even though it didn't seem anyone else was going that way. I had and still have a custom site and expensive business cards targeting the kinds of people I want to work with. All my clients said when they were looking for an organizer, that once they clicked on my site they knew I was the one. I've happily turned down work straight from the beginning. It was hard at first especially when I had no work, but by taking the jobs I wanted, I got the pictures and referrals that propelled my reputation and business forward to what it is today.  I've never advertised with either paid or free listings on Craigslist, which is why I'm not dead and buried in some guy's basement.
My strength as an organizer is not only making a space functional and intuitive but making it look great, which is something I also learned while working at VWA. True story: when I first started, I was told not to touch anything, especially the resource library. After Vicente saw how well I organized what I was permitted to do, he slowly allowed me to organize more and more. By the time I left, everyone in the office was under strict orders to not put anything back in the library once they took it off the shelves. If they took something, they were instructed to "put it back on Laura's desk" for me to put away. That may have been the highest compliment I have ever received.
Staying in Control
The way Vicente has his interior design clients come to his office rather than meeting them in their homes was a huge lesson for me.  With initial meetings taking place on his turf it's a subtle means of starting a project 'in control,' which makes it easier to stay in control during the project. Once you give up control in any way, there's really no going back.
Even though all my work is done in my clients' homes, I maintain control in subtle ways; the strength which with I communicate and explain my process, for one. Because it is critical that my clients understand – and trust – my process within the framework of collaboration, being sure-footed is a huge plus.  They come to recognize that the systems and style that I am presenting are perfect for their life and needs.  After working with a few people who I let take too much control I vow never to let that happen again.  Not only was the process unpleasant, but the results were less than satisfactory. The most important thing I've learned is staying strong and choosing who I am going to work with. You can tell from a phone call (which is how I always start a project) how much control a person is willing to give up.
Stay tuned for Part II – Have a Presence, The Questionnaire, Have a Live, Present Wholly
Laura Cattano is celebrating over 12 years in business as a professional organizer with a focus on design and a 'living better with less' philosophy. She has helped countless people in NYC create spaces that feel like home and support how they want to live no matter the size or budget. Laura Cattano's ORGANIZATIONAL DESIGN work and advice can be seen in the New York Times, NY Magazine, Cosmopolitan Magazine, Elle Magazine, Instyle.com, Architecturaldigest.com, Refinery29.com, Lonny.com, RealSimple.com, and MarthaStewart.com.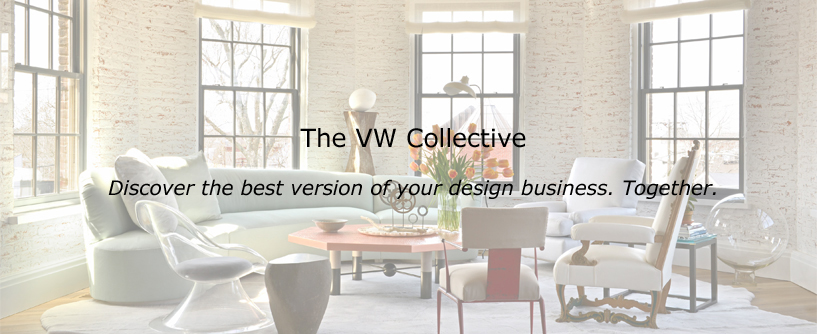 The VW Collective – Where Designers Will
Discover the best version of their design business. Together.
2 Powerful Leaders
60 Design Professionals
1 Impactful Weekly Conversation
Unlimited Topics and Chances to Reinvent Your Design Business
Launching Fall 2018
After forty years in the industry as an acclaimed interior designer as well as noted collector, author, lecturer, world traveler, spiritualist and photographer, Vicente Wolf has much to offer to fellow designers.  Eager to share his experiences, analyze issues and develop solutions with like creative individuals, Vicente invites design professional to join with him on this learning adventure with him.
Embarking on this journey with Vicente is his long-time friend and associate, Sean Low.  Sean, through his company, The Business of Being Creative, has spent the last nine years of his life working with designers and creative individuals on their businesses and has gained the benefit of insight into what it takes to be successful.  Sean has and continues to run a similar member-driven group for event professionals, The BBC Collective (www.thebbccollective.com).
The VW COLLECTIVE is an innovative and interactive learning forum limited to 60 professionals.  For a holistic examination of designers' own businesses and craft, coupled with self-nurturing concepts, designers are invited to join Sean and Vicente in this exploration.  The VW COLLECTIVE is a powerful opportunity that will enhance the way designers sustain and bolster their creative souls, while at the same time lay the groundwork for their ultimate financial profitability.
Topics will address essential issues facing the group: funneling inspiration into reality, managing client relationships, pricing, using technology in design, timing of payments, getting the most out of staff and structuring client agreements, just to name a few.  Weekly teleconference meetings on Wednesdays at Noon are with Vicente and/or Sean and/or a noted guest speaker (industry leader, editor, etc.) will be posted on the website.  In addition, members are encouraged to engage in meaningful ongoing conversations via a closed Facebook group and will have the opportunity for a private quarterly call with either Vicente or Sean.
With a limit of 60 individuals, The VW COLLECTIVE will have weekly calls on Tuesdays at 12:00 Noon. Vicente and/or Sean and/or a guest lecturer will host the 60-90 minute recorded teleconference.  To sign up for The VW COLLECTIVE, visit TheVW COLLECTIVE.com.  Once designers sign on, Vicente Wolf will arrange for a personal and intimate conversation with each new member to understand their personal path and business goals.
For more information contact Sean Low at sean@thebusinessofbeingcreative.com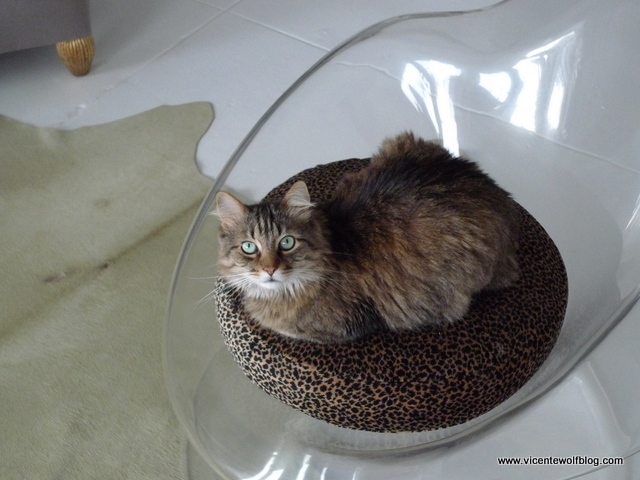 I have a feeder that feeds the cat automatically. But I think that Nene has figured out how to jump the automated system. Whenever I come back from the weekend away he honestly looks bloated. I think he's figured out a way to cheat the machine and gets fed more than he should be eating. I'm considering putting a Nene-cam in the Kitchen just to make sure he's not messing with the feeder. Cats are such creatures of habit. Even if the machine feeds him at 5 in the morning, he still wakes me at 5.30. Then I have to walk with him into the kitchen, point to the feeder and only then will he start eating. I don't have the energy to get up at 5 every morning to feed him. If anyone has any suggestions on how to un-train him on the 'let me wake him up so he feeds me routine' , please let me know!