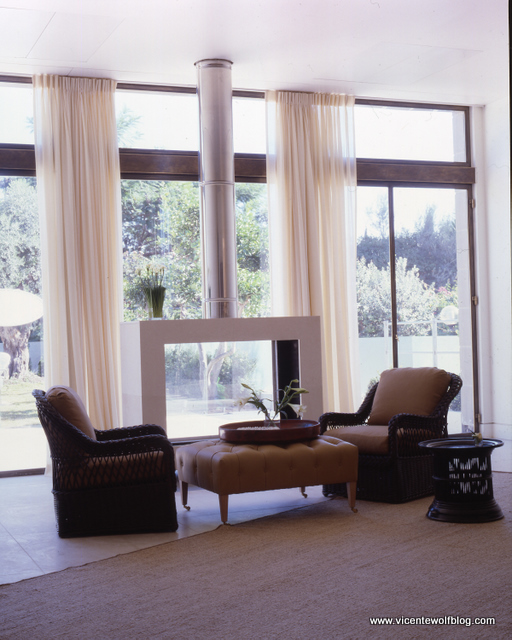 We are currently working on a collection of tiles for a major tile manufacturer. This project has been in the works for over a year and is still nowhere near completion – but that's just the nature of this type of thing. I find that when I'm working on projects that take a long time, it's best to enjoy the journey, rather than wanting to see it complete. It's something I've just gone through with the book and hopefully this tile collection is something that will be coming out in early spring of next year. I will keep you posted on the progess.
Living in a city like New York where instant gratification is the norm, trying to take a breath and enjoy the process not the conclusion is something that I find very hard to stick with. Whether it is doing a job or eating my dinner or going to the theater, I am always rushing through it. That old expression of 'Stop and smell the coffee' is one that I need to listen to. I think if you don't, you lose part of the enjoyment of the trip to your end destination. When you all are rushing through your day, what tricks do you use to 'chill out a little bit? Let me know! I need as much help as I can get.
Name: Kathy
City: Cameron Park
State: CA
Country: USA
Comment:
Just started following your blog. I am curious to know how many collaborative hours it takes to pull a project together for presentation. Therefore, how do you get a deposit or retainer from your client up front before knowing the total cost of said project?
Vicente Responds:
Kathy, You don't ascertain the budget, the client tells you the budget. You don't design the project until you have the contract, which stipulates the budget. In this office, it can take off and on from two weeks to a month and a half, depending on the scale and how many items need to be estimated. I try to do each segment of the process in concentrated time, whether it's to do construction, then furniture, then fabrics – with each of them, I sit and work on it, pull back, take some time to work on something else and then I go back to the next one. I do one segment at a time, take a couple of days, then I go back to do furniture design, take time, then I do fabrics and colors. Each time I go back I revisit and look at what i've done up to that point with fresh eyes. It's like cooking – you cook, then you taste, you add a little more, cook some more, taste a little more, etc. The estimating – getting all the prices together – is something that needs a good amount of time as estimate sheets need to be written out and come back from suppliers. None of this happens until we have a signed contract and retainer and we've gone through a questionnaire with the client to find out likes and dislikes so I know what my perimeters are.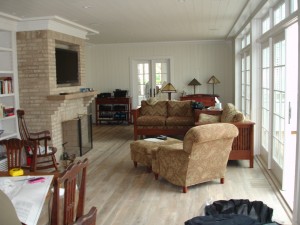 From: Katherine Fortier Interiors
City: Boston, MA
Dear Vicente,
I have just finished the renovation of my parents' beach house in Maine–my first major project to be completed since going out on my own after leaving the high-end residential design firm where I began my career four years ago–and now I'm tying up the second phase of this project: the interior decoration.  (I gave my presentation on Sunday, and we're hoping to have an order placed by the end of the month.)
For the upholstery, I selected light-colored linen and cotton fabrics from Rogers & Goffigon in the hues of the landscape–watery blues, seagrass greens, and sandy taupes and creams.
My client/parents were thrilled with the design, but are concerned that the light-colored fabrics will be quickly ruined by wet, sandy dogs and people who flop down on the furniture right after a romp on the beach. I will have the upholstery stain-treated by a company who will come to remove any pesky stains whenever necessary and without an additional charge, but my clientparents envision their having to make weekly housecalls, which they consider a hassle and, thus, not a solution in and of itself.  I've been experimenting with using indoor/outdoor fabrics from Janus et Cie in place of the lightest-colored Rogers & Goffigon linens and cottons, but I feel like I'm sacrificing the nuances of color and texture . . .
So we're thinking that slipcovering the all the upholstered furniture in a white fabric could be the ideal solution.  I actually have no experience slipcovering furniture, but I noticed that you slipcovered all the upholstered pieces in your Montauk house.  Would you mind telling me what fabric you used?  Do you wash your slipcovers at home, or do they require special laundering?  I have excellent workrooms that I use for custom upholstered pieces, drapery treatments and pillows, from whom I presume I could order the slipcovers–if not directly from O. Henry House, where I'll be getting most of the upholstered pieces–so finding a trusted and experienced fabricator isn't an issue . . . Do you recommend using a separate workroom for slipcovers or ordering them from the furniture company?  Are there any additional tips/instructions that I should know about when writing out the specifications for the slipcover order?
(Other upholstered pieces with rattan or woven wicker frames–like the WS-10 Umbria Lounge Chair and the A-56 Toscana Lounge Chair from McGuire–will require a different solution–any further advice on those?)
I really appreciate your taking the time out of your very-full schedule to read my email, and hopefully select it as one that you'll answer on your blog–which, by the way, is such an inspiration.  I think I speak for all your loyal followers and fans when I thank you for your generosity of time, expertise, and spirit.
Cheers,
Katherine
PS: I've attached a photo of the house:  taken from the kitchen, looking out onto the dining room, living room and screen porch.  (All the existing furniture will be replaced.)
Vicente Responds:
I upholstered all the furniture in my Montauk house in a dark taupe color about eighteen years ago and then had slipcovers made for pretty much all the sofas and chairs. The thinking was that the dark taupe would be great for winters and the white ones for summer. After all that planning, I've never taken the covers off to expose the darker look. The white covers look great in winter and summer time. I also had stretch covers made for metal chairs – which you could consider for the wicker. (Or why not paint the wicker frames white?) Here's a tip: make sure all the fabric is pre-shrunk before you have them sewn. We wash all the covers about twice a summer at home in the washing machine and then just put them back on when they're almost dry.