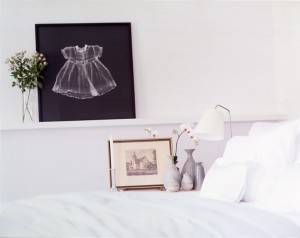 Thank you so much for all the kind wishes for my birthday yesterday. I did not celebrate it as I don't believe in celebrating things like birthdays or new year's…I usually try to be out of New York for these so-called 'big dates'.
That said, I truly appreciate all the well wishes.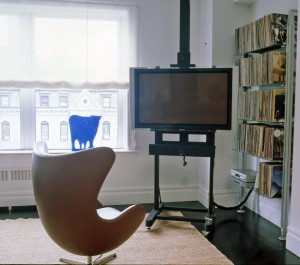 In design everyone's always looking for new and original ideas and it got me thinking about what constitutes an 'Original Idea'. I think a 'new' idea in design is how something from the past can be reinterpreted to suit today's point of view. Yes, nothing is new, but on the flipside, new ideas are always coming out in the marketplace and it's "Is anybody else doing it right now?" or "Has anyone else seen and old idea and reinterpreted it in a new way"? In being reinterpreted, are you taking that which served one purpose before and is now reinterpreting it with a new use?
I think that one of my strengths have been being able to see something from the past and using it in a new way. Like when I first did picture ledges eighteen years ago, or the first time I leaned a huge mirror for fashion designer Willi Smith twenty eight years ago and presently, with an easel, which was always used to rest art on, but which we now use as a TV stand.
My Easel-as-a-TV-stand idea recently got copied by a major retailer and they are now selling these at a really affordable price across the country. On the one hand it is a flattering thing when your idea gets ripped off, but on the flipside one has to wonder why these manufacturers don't go to the source of the creative idea and have them create for them, instead of just copying them. I think in Europe it is much more prevalent that manufacturers see someone with a good idea and for the manufacturer to ask the designer to come up with other good ideas in partnership. In this country they just knock you off, which to me is very frustrating.
That does not stop me from trying to be innovative in my work and keeping the hope alive that manufacturers will see the possibilities of working with a creative firm to not just come up with one creative idea, but many.
After a very frustrating couple of days in which I realized why I only trust paper and definitely not technology, I'm happy to say that we are back up.
Thank you for bearing with me during this adversarial time.
BTW – Did any of you spot the proposal in Thursday's issue of the Metro newspaper? There was a follow up in Friday's issue and we learnt that he took his girlfriend to my restaurant Alto pop the big question, which kind of makes me an accomplice, right?