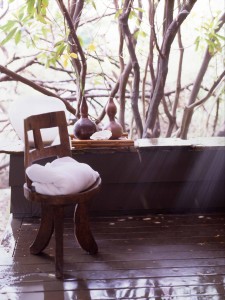 I am out at Montauk again this weekend to fertilize and spray for deer. It's the stinkiest thing ever! I have to tell you, things are shooting out of the ground by the minute. I cannot wait for summer! Sorry to keep talking about it, but I'm just so excited! Have you all been gardening?
Go online to the New York Times' Food section. There are some wonderful food recipes like the crispy duck salad, which I will give a try today.
Happy Sunday everyone.
When installing jobs for clients, I like to put yellow flowers all over the house – I find yellow brings a little bit of sunshine into the space. Over the years I've gathered some tips to ensure cut flowers stay nicer for longer: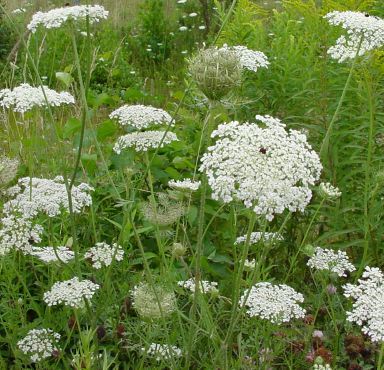 If you have hydrangeas and they wilt, cut the bottoms and put them in scolding hot water. You'll see them come right back to life.
If you have lilies, cut off the pistils to make the flowers last longer. If you get any of the staining dust on the flower, don't rub it – get scotch tape and dab it, it'll come right off. Never rub it!
If you change the water in the flowers every three days, they'll last much longer as it is the bacteria in the water that kills it.
If you have roses, be sure to cut the bottom and immediately put them in luke warm water, don't cut them and let them sit out as the stem closes up and it won't drink any water.
Do you have any cut flower tips you'd like to share with us?
P.S. This weekend's flowers are Queen Anne's Lace – I went on the highway with clippers and cut bunches of it all along the road and put them in my house – getting wild flowers from the outside can save you a bundle.
The strange thing about being a blogger is that I don't know about you and where you come from or where you live, yet we communicate so often. I always love hearing back from you. 
I was in Montauk over the weekend working on my garden and it is amazing to see how things come out of the ground (and how fast they can do that!). Clipping, trimming, fertilizing, planting, pruning, digging and spraying against pesky deer – which is really quite the experience as the odor that the repellant has can repel death away (even in humans!). Being a clumsy individual I spray as much on myself as I do on the plants, but it's all worth it when you see that the little bastards has not touched my Lilies or Hastas as they come out of the ground. 
I'm trying to plant my garden in a very undulating way (there are no straight lines) to match the topography of the rolling hills. It has a sense of tropics (achieved with lush-leaved Hastas) and I have large quantities of Hydrangeas which, again, bring a rounded shape to the garden. Except for my cutting garden, everything is white-blooming flowers – from the tiny Lily of the Valley to humungous Hydrangeas. It gives great continuity from the inside of the house, which is all white, to the garden. 
As designers, how do you bring your creativity to the outdoors? Do you find that it expresses itself in the furniture you put outside or the plantings you do? If you have a small terrace, how do you express your home outdoors? Why don't you share it with us as many people out there may need help with getting this ready for summer?