Guest Post: Holly from decor8
Hello fans and friends of Vicente Wolf! This is Holly Becker from decor8 (http://decor8blog.com) guest blogging while Mr. Wolf is on holiday. I am honored to be here! I was asked write about social networking for designers since I've found success using tools like Facebook and Twitter, so I'm going to give it a shot in this post. But before I get started I must share a real highlight of 2010 that took place in the home of Mr. Wolf…
 This past summer, I had the honor of working in Mr. Wolf's gorgeous New York loft (I know, pinch me!) alongside interiors photographer Debi Treloar to style his inspiring home for my upcoming book, Decorate (http://www.chroniclebooks.com/index/main,book-info/store,books/products_id,9211/title,Decorate/). In addition to sharing parts of his space, he so generously allowed me to interview him and so I am lucky to have some of his words of decorating wisdom in my book in addition to images of his home. Standing on his patio overlooking the city while enjoying lunch, on a beautiful July day, was a real highlight as I look back on 2010. And now a little about me…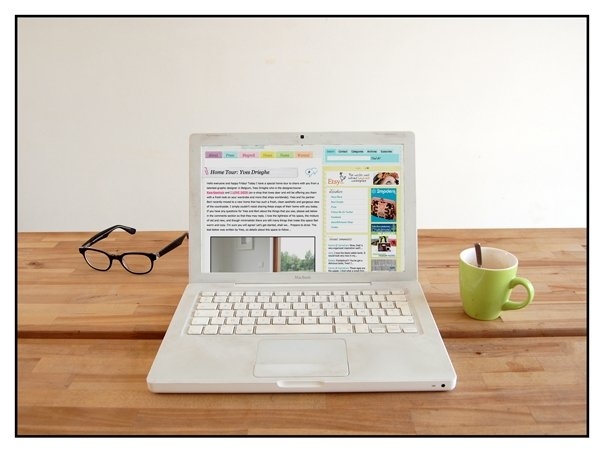 Image by Yves Drieghe
For those of you who do not know me, I'm a "professional" blogger which basically means that I write on my blog decor8 (http://decor8blog.com) full-time and earn a living from it along with additional projects that I take on like teaching both online and off, working as an online columnist for Real Simple (http://www.realsimple.com) for nearly three years, and prior to that I was with Domino, HGTV and Cookie magazine producing content for their websites. I was also a Style Editor for the Boston Globe. 
I love what being online and putting myself out there has done for my life, as I wasn't always Holly of decor8 but was once Holly the Executive Assistant, Holly the Space Manager and Holly the Project Manager when I worked in the corporate world for nearly 10 years. In 2005, I decided to jump tank and headed off into the great big ocean of freelancing – but more than that, I changed my profession entirely, attended design school for a few years, launched decor8 when design blogs were barely on the map, and now I have a pretty good thing going on and I'm proud of what I've accomplished in only 5 years. How did all this come about?
Outside of having passion for design and loving what I do, I'm not shy online – I put myself out there and network quite fearlessly – and that is why I think you should be doing the same if you want to spread the news about your work. I keep up with my colleagues, I've created a network, and I keep my name out there.
Social networking connects us online and off. You really "get" this when you're at a party and someone asks if you have a blog, a Twitter account, a Facebook page, if you are on LinkedIn, etc. In fact, I get asked about the social networking tools that I use more than I'm asked for my phone number or personal website! If you aren't using these tools then you suddenly fall into the dinosaur category and that great person you just met will come and and go quickly because if they don't have a way to reach you post party, then you will simply be out of sight, out of mind. When you're not online tweeting and linking up and whatever else, you also give the impression that you are old school (anyone young and hip is out there working their social networking mojo). Who wants to be old and out of style? Not a designer, that's for sure!
Truth is, if you're not online using social networking platforms as a tool to reach your colleagues, friends, customers and potential customers then you are definitely out of the loop and potentially losing out on some stellar opportunities. In such a fast-paced and highly competitive industry the movers and shakers are those who are doing just that, moving and shaking, and this means they're networking or as I like to say, on the Net + Working. They are working the crowds and giving good pose on the virtual red carpet. This stuff matters.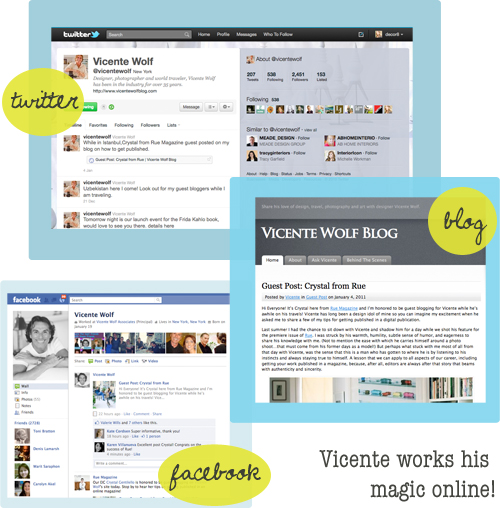 When it comes to networking online, what should you be using? Definitely Facebook (http://www.facebook.com), Twitter (http://www.twitter.com) and LinkedIn (http://www.linkedin.com), but it is also a good idea to have a blog (I use blogger http://www.blogger.com and WordPress http://wordpress.com) – even if you hire someone else to do the work of maintaining them all for you. You can simply tell your PA (personal assistant) what you want the blog post to say, even speak it into a recording device, and let them compose the post for you.
But what if you are far too busy doing actual work to sit down and burn hours on the computer? Well you have a few options, I'll cover two.
If you are a designer and cannot spend huge amounts of time online, no worries — hire someone who can do it for you. Have your PA filter through your tweets and even tweet on your behalf, write and reply to Facebook comments, write your blog posts, read and reply to blog comments, etc. Each morning your PA can pull together a report,  a "must see" list, so that you can review it and respond accordingly.
Your next option is to take on the wild world of social networking yourself and carve out time each day to get involved in these online conversations. View it as being just important as your actual work, because networking plays a huge part in promoting your actual work and if you are not promoting it then don't bother making things because no one will know about it anyway! Even if you jump online for 30-60 minutes a day, you are doing good things for your business. If you have an iPhone, where there is an app for everything, install Facebook, Twitter, LinkedIn and other social networking tools so that you can create a little buzz from the road. If you find yourself waiting for a flight, use that time to jump online and work your magic.
Word of caution: When it comes to networking remember, a little goes a long way. No need to tweet every second of the day. View Twitter as a space for you to share quick, useful information. No one cares that you just ate sushi but if you just ate at the best sushi restaurant ever, then that is worth sharing. If you saw an interesting product, met a talented designer, heard something that inspired you, saw a great film, these things draw your fans closer and bring in new ones since you are providing useful information. When you blog, share from the heart, be honest, and don't copy what is already out there — be an original. Think of what can add value to this great online conversation versus just throwing stuff out there. Most importantly, at least to me, is to remember that social networking isn't commercial networking. Most people want to get to know YOU better, especially if they already follow your work. Plus, it can really turn people off if you are simply promoting yourself 24/7. Sure, you can tweet your recent blog posts, but also tweet about the work of others. When it comes to social networking, the keys to success include consistency, authenticity, sharing your work along with the work of others, originality, adding value and being "social" — you'll need to comment on your favorite blogs, reply to comments left on your blog, etc. Mr. Wolf does this quite well, he has left a few comments on decor8 and that definitely made me value and respect him even more because he took the time out of his busy schedule to stop by and say hello.
A blog, especially for a designer, is an extremely useful platform for sharing your work and other valuable information, obtaining new work, connecting with potential clients and connecting with current clients, friends, colleagues and family members. Don't sit around stressing over how personal you should get, or how many tips you should share, do what feels comfortable and use some of your favorite bloggers in your field as a guide — if what they do works for them then it could potentially be a good template for you to follow. Learn how to create a LinkedIn profile, try out Twitter and learn how to create a fan page on Facebook if you don't want to create a personal account, for instance. When it comes to technology, you can bet that most of your colleagues are tweeting, linking in, facebooking (is that a word?) and blogging. If they're online using these tools then they are reaching out to your potential customers — and you may get left behind.
I'd also like to add that you should include links to the sites that you're on in your email signature (not all of them, but your blog, twitter and facebook are fine) and yes, you can even put them on your business card. To organize things a bit and to save time, link your accounts by using TweetDeck (http://www.tweetdeck.com), too.
If you are already using these tools, then a big high five to you – you know the value of them and perhaps you can share a comment or two below this post as to how they've helped you personally and professionally. This post is more for those who are just jumping in or considering to jump in on the action and hopefully, it encouraged the toe dippers to go for it.
So that's it, a little advice when it comes to social networking from a girl who has been there, done that, and sees positive results. Are you using any of these tools? Would you like to connect? If so, tell us where we can find you online and talk about some of your experiences in the comments section below.
Thank you Mr. Wolf for having me! Warmly, Holly Becker, decor8.