Budget Kids' Rooms
Here's the perfect example of how budget really doesn't matter when it comes to creating great rooms. Here are three childrens rooms I did on a budget of $30,000 for all three, which did not include painting the walls or the floors, but everything else in the space. Two girls and one boy, I was able to work with two catalog brands and even a few pieces from VW Home, like the antique bed in the orange and pink room. The other bed is from Brocade Homes.
I wanted to create three completely different emotions. The antique bed I bought, with curtains and linens in  hot pink and bright orange with an amoeba shaped carpet on the white floors, both night tables, one a desk, came from catalogs. There's some Crate & Barrel and some Wisteria. The elements are really a great combination of industrial with more romantic looking pieces.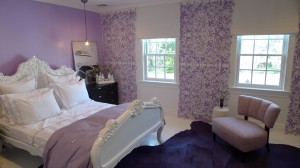 In the lavender room the wall behind the bed is mauve, the curtains are stamped paper with white blackout shades in the window, the bed from Brocade Homes, the night tables are from Room & Board and I really felt that the different emotions match the personalities of the girls.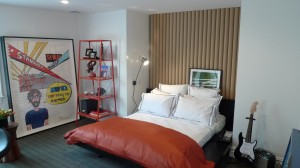 The boy's room shows how musical instruments can become part of the decoration. The headboard are cardboard tubes that are mounted on the walls. The bookcases from CB2 become accents in the space and behind the curtains (with gromets), it becomes storage for the kids.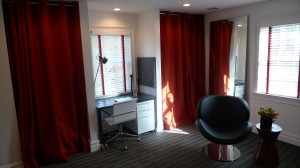 Not bad hey?
(As always, click on the photos to see the larger version)