Relatively Speaking: Three One-Act Comedies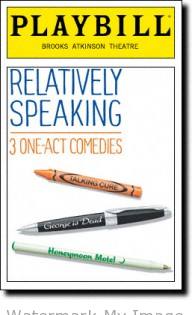 I recently went to see Relatively Speaking,  a show that is made up of three one-act comedies by Ethan Coen, Elaine May and Woody Allen and directed by John Tuturro.
All three were very different and reflective of their personalities and style.  Ethan Coen's storyline matches his typical movie-making style, which is quirky.  Elaine May's dealt with female neurosis and a totally self-absorbed woman played by Marlo Thomas.  Finally, Woody Allen was at his best recreating the silent-era routine of slamming doors, with eight characters playing off each other.